Goals of Interest
According to McKinsey's Global Institute, analyzing large big data sets will become a key basis of competition for firms, underpinning new waves of productivity growth, innovation, and consumer surplus across most business sectors. They estimate that nearly all sectors in the US economy had at least an average of 200 terabytes of stored data (twice the size of US retailer Wal-Mart's data warehouse in 1999) per company with more than 1,000 employees. In addition, a recent study by NewVantage Partners found that over 85% of C-level executives from leading Fortune 1000 companies indicated that a Big Data initiative was planned or in progress. The primary reason cited by businesses for investing in Big Data is to enable better, fact-based decision making (exhibit).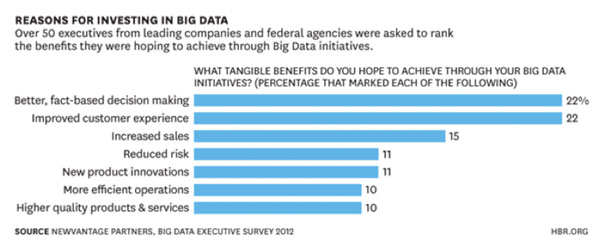 However, most businesses are floundering in their ability to extract value from Big Data. Big Data management and analytics require a multitude of advanced concepts, tools and technologies, and the required skills are hard to come by. For most companies, data-analytics success has been limited to a few tests or to narrow slices of the business and very few have achieved what we would call "big impact through big data," or impact at scale. While policies related to privacy, security, intellectual property, and even liability will need to be addressed in the big data world, the main difficulties facing most businesses committed for this transformation is three fold:
Organizations need guidance, pilots, and proven return-on-investment (ROI) case studies on how to put the right talent and technology in place and more importantly structure workflows and incentives to optimize the use of big data. To this end, MBDH will identify areas of particular mutual interest to the business community in consultation with industry collaborators and pool resources from industry, the hub, and partner universities and other funding organizations to lead the studies.
Training and development of current and next generation work force that is well versed with big data tools and technologies through highly effective workshops, short courses, and full academic programs focusing on the intersection of big data and business analytics.
Access to data is critical—companies increasingly need to integrate information from multiple data sources, often from third parties. MBDH will work to facilitate the establishment of synergistic data sources of interest to the business community and in consultation with industry collaborators.
Overall, the Business Analytics Community of the Midwest Big Data Hub (MBDH) aims to assist businesses in addressing their deficiencies and help unlock the full potential of big data and the next wave of innovation and growth across the Midwest. MBDH will also be organizing annual workshops/symposiums to bring diverse business, academic, and technology stakeholders to further foster diffusion of big data innovations.
Education Impact
MGI estimates that by 2018, the U.S. alone could face a shortage of 140,000 to 190,000 people with deep analytical skills as well as 1.5 million managers and analysts with the know-how to use the analysis of big data to make effective decisions in businesses.1 The Business Analytics Community, as well as the broader MBDH, will complement existing Big Data Science and Business Analytics programs across the Midwest by offering focused education and training workshops, short courses, annual symposia targeting business practitioners and executives to highlight best practices, to assist in developing big data analytics capabilities within the firm.
Stakeholders
Businesses
Roles and responsibilities: Bring problems/data/solutions, provide financial resources, share talent/software/tools/data, implement solutions, engage students, develop/commercialize intellectual property.
Sample representative list of confirmed business partners: Ford Motor Company, General Motors, Dominos, Henry Ford Health System, Mayo Clinic, Veterans Administration Medical Centers, GE Aviation, John Deere, Cincinnati Bell, Kroger, Macy's, Proctor & Gamble, General Dynamics, Urban Science, Agrible, TechTown Detroit, Great American Insurance Group, Alcatel Lucent, Licor-Biosciences, 84.510, and City of Detroit.
Universities
Roles and responsibilities: Provide trained work force with big data knowledge and business analytics implementation skills, assist in developing big data analytics capabilities within businesses, address relevant problems, and build new capabilities/solutions.
Sample representative list: Wayne State, U Cincinnati, Northwestern, Michigan State, and U Minnesota.
Big Data Technology/Capability Providers
Roles and responsibilities: Develop, train, consult, sell, and donate big data software, tools, technologies, and platforms.
Sample representative list of partners: Cloudera, Oracle, CLEO, LexisNexis, and Loven Systems.
Existing Resources
The community leadership universities and the broader MBDH university partners have extensive experience in assisting Midwest businesses in embracing, tailoring, and deploying big data tools, technologies, and platforms. These universities have effective big data analytics case studies that cover all core functions of business (ideation, product development, manufacturing, supply chain management, sales, and service) that can be readily and efficiently tapped into by the business community for understanding return-on-investment opportunities. These universities along with their extensive technology/vendor partnerships have facilities and support staff across the Midwest for developing proof-of-concept (POC) solutions. The capstone/practicum projects that are part of the associated Big Data & Data Science curricula at these universities also provide cost efficient and effective access to big data and business analytics expertise for piloting solutions.
Proposed Evaluation Metrics
Accelerate the ideation and development Big Data solutions by convening stakeholders across sectors to partner in results-driven programs and projects.
Number of collaboration projects involved
Act as a matchmaker between the various academic, industry, and community stakeholders to help drive successful pilot programs for emerging Big Data technology.
Number of pilot collaboration programs successfully completed
Degree of success (financial impact, job creation, reach)
Aim to increase the speed and volume of technology transfer between universities, public and private research centers and laboratories, large enterprises, and SMBs.
Number of patents
Number of technology licenses
Number of startups created/registered
Facilitate engagement with opinion and thought leaders on the impact of Big Data technologies as to maximize positive outcomes of adoption while reducing unwanted consequences.
Number of meetings organized
Number of attendees and their mix
Quality of participation
Support education and training of the entire Big Data workforce, from data scientists to managers to data end-users.
Number/Variety of programs
Number of graduates
Community Leadership Team
Prof. Ratna Babu Chinnam
Professor, Industrial & Systems Engineering
Director, Big Data & Business Analytics Group
Wayne State University, Detroit, MI 48202
Tel: 313-577-4846 | Email: ratna.chinnam@wayne.edu
Prof. Michael Fry
Department Head and Professor of Operations, Business Analytics & Information Systems
University of Cincinnati, Cincinnati, OH 45221
Tel: 513-556-0404 | Email: mike.fry@uc.edu
Prof. Diego Klabjan
Professor, Industrial Engineering & Management Sciences
Northwestern University, Evanston, IL 60208
Tel: 847-467-4520 | Email: d-klabjan@northwestern.edu
Prof. Vallabh Sambamurthy
Chairperson & Eli Broad Prof., Accounting & Information Systems
Michigan State University, East Lansing, MI 48824
Tel: 517-432-2916 | Email: sambamurthy@broad.msu.edu
Prof. Ravi Bapna
Chair & Board of Overseers Prof. in Information & Decision Sciences
Academic Director, Social Media & Business Analytics Collaborative
University of Minnesota, Minneapolis, MN 55455
Tel: 612-625-3698 | Email: rbapna@umn.edu
Prof. Jun Li
Assistant Professor of Technology and Operations
Ross School of Business
University of Michigan, Ann Arbor, MI 48109
Tel: 734-763-4612 | Email: junwli@umich.edu