The Midwest Big Data Hub co-led local participation in the 4th annual Global Women in Data Science (WiDS) Conference, with sponsorship from the National Center for Supercomputing Applications (NCSA) and the University of Illinois. The event was free and open to all. The WiDS Conference, hosted on March 4th at 150 locations around the world, seeks to unite and connect women working in data science fields.
"We were very excited to co-sponsor this with NCSA, and support this inaugural Illinois event for Stanford's Global Women in Data Science Day," said Melissa Cragin, Executive Director of the Midwest Big Data Hub. "Partnering with others on events such as the Illinois WiDS allows us to best use our human resources and experts network to broaden participation in data science and Big Data research and education. I was honored to participate and have the opportunity to moderate such a terrific panel of accomplished leaders, who shared their perspectives on data science, data-enabled research, and opportunities for women in this space."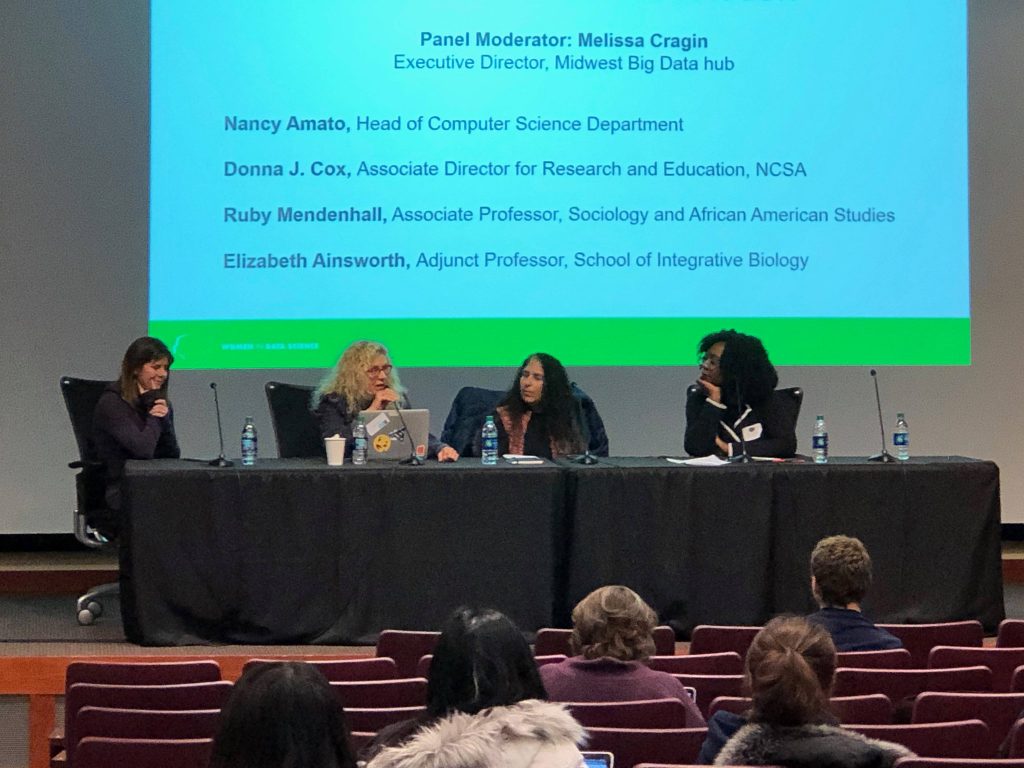 The WiDS local events, hosted this year at NCSA, featured a variety of speakers from diverse backgrounds presenting sessions on opportunities for women in data science, technical vision talks, and the variety of data science and technology careers available in the Midwest.
"I always enjoy telling my story about how I got started working big data research," said Ruby Mendenhall, Illinois Professor of Sociology and African-American Studies and NCSA faculty affiliate. "My story also demonstrates the importance of doing outreach to groups that are not traditionally represented in data science such as African American Studies."
As part of her 2017-2018 NCSA Faculty Fellowship, Mendenhall and NCSA research programmer Kiel Gilleade completed a pilot study called the Chicago Stress Study that examines how the exposure to nearby gun crimes impacted African American mothers living in Englewood, Chicago. Mendenhall and Gilleade developed a mobile health study which used wearable biosensors to document 12 women's lived experiences for one month last fall. As part of their research, Mendenhall, Gilleade, and their team were able to create an exhibit based on the study data they collected in order to bring the unheard, day-to-day stories of these mothers to life.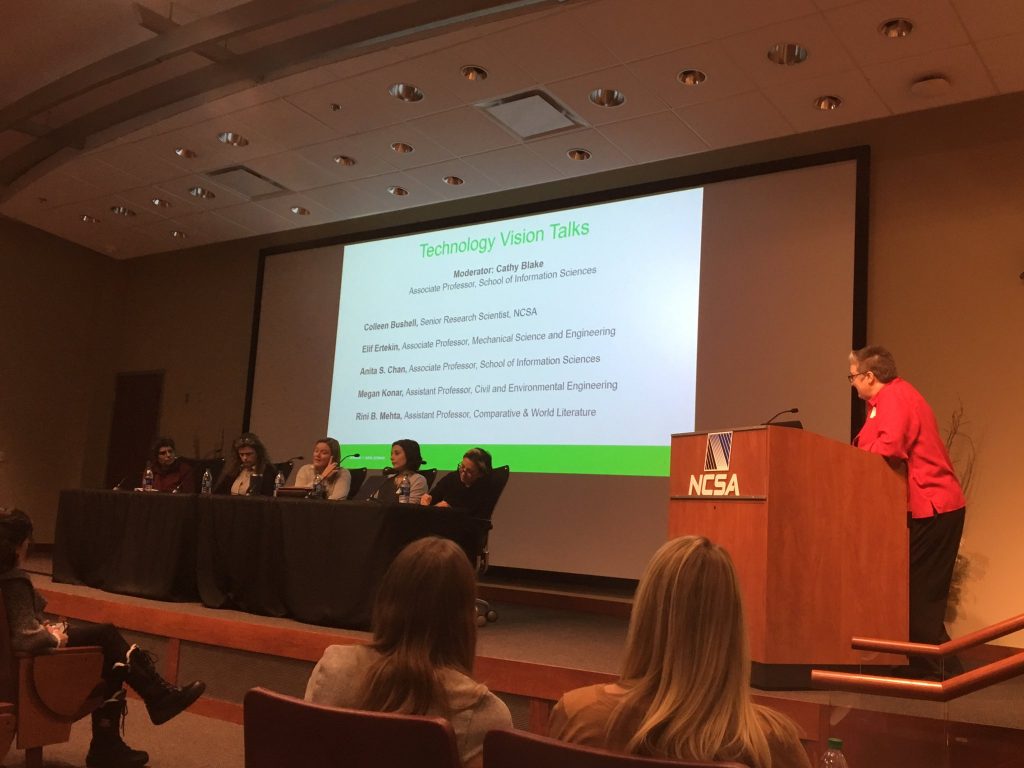 Professor Donna Cox, Director of NCSA's Advanced Visualization Lab, was a panelist at this year's local conference, and praised the insights of the other speakers while emphasizing the importance of the larger WiDS conference. "It was valuable to hear other panelists," said Cox. "The future of Women in Data Science should include raising awareness about important issues emerging in data science, especially socially-relevant issues. We need more women actively involved in the ethics of data science."
Alice Delage, Associate Project Manager for NCSA and Program Coordinator for the MBDH, said, "Hosting WiDS Urbana-Champaign at Illinois was an opportunity to highlight the campus expertise around data science led by women." Delage, who co-chairs the local Women@NCSA group, said, "Data science and technologies are increasingly impacting our lives and society, and it is imperative that women and minorities be part of these transformations. We wanted to showcase the groundbreaking work being done in that area by Illinois female data scientists and to inspire more women and underrepresented communities to engage in the field."
There are also opportunities to expand the event next year by better incorporating student work in the program, Delage said, or running a datathon, for example. Some of this year's participants have already volunteered to help with next year's event.
A full list of this year's speakers at the WiDS Conference at NCSA is here. For more information about the global WiDS conference and ways to get involved, please visit https://www.widsconference.org.
The MBDH is one of four regional Big Data Innovation Hubs with support from the National Science Foundation (award # 1550320), and works to build capacity and skills in the use of data science methods and resources in the 12-state U.S. Midwest Census region. Learn more about the Hub at https://midwestbigdatahub.org.
Thanks to NCSA Public Affairs for contributing to an earlier draft of this post.