By Raleigh Butler
In 2010, the University of Minnesota received a grant from the National Science Foundation to study climate change using data-driven methods. The project included Midwest Big Data Innovation Hub co-PI Shashi Shekhar and a team of researchers from across the country. The research led, in part, to explorations of connections between food, energy, water, and climate change.
Because greenhouse gases contribute heavily to climate change, activities that contribute to their release are becoming more divisive with time. There's no doubt that the food we eat is becoming an increasingly political statement. According to the 2019 Environmental Protection Agency report, agriculture was responsible for 10% of all greenhouse gas emissions, amounting to 650 million metric tons of CO2. A quarter of those emissions (about 2.5% of all greenhouse gas emissions) come from livestock before they are butchered.
The Coupled Model Intercomparison Project 3, a project of the World Climate Research Programme, predicts when the global average temperature will increase by 2°C. The approximately 0.75°C increase in temperature since 1950 has caused a huge increase in natural disasters. This can be seen by an increase in hurricanes, such as Katrina, and the melting of the polar ice caps, among other issues.
According to the graphic from their report, the global average temperature has already increased by about 1°C (1.8°F) relative to preindustrial levels, and will continue rising to as much as 7°C in some regions by the end of the century.
Climate change is the culprit behind many natural disasters, as more than 170 scientific reports covering 190 extreme-weather events found that around two-thirds of extreme-weather events likely originated from, or were exacerbated by, anthropogenic hazards.
How does this apply to the Midwest? Let's look at Iowa, where over 90% of its land is used for agriculture. In recent years, extreme-weather events have wreaked havoc on crops.


Farmers and agricultural specialists were worried in August 2020 when portions of Iowa experienced derechos. Pronounced deRAYchos, these are widespread, long-lived thunderstorms mixed with 100–130 mph winds. According to the National Weather Service, a derecho like this was "a roughly once-in-a-decade occurrence" in the Midwest.
These immensely strong storms destroyed crops and decreased crop output for the season in Iowa. According to the power-outage map published by the University of Wisconsin–Madison's Cooperative Institute for Meteorological Satellite Studies (CIMSS) below, A quarter of the counties in Iowa caught the worst of the storm. All the affected counties were in the central-east portion of the state.


There were high hopes that 2021 would bring a better crop return. However, when agricultural scouts crossed Iowa in mid August, they found that the state was suffering from extreme drought.
Although derechos and rain-damaged fields were no longer the center of concerns, 2021 has brought high levels of drought. According to the U.S. Drought Monitor, on August 17, 2021, 79% of Iowa was impacted by some degree of drought.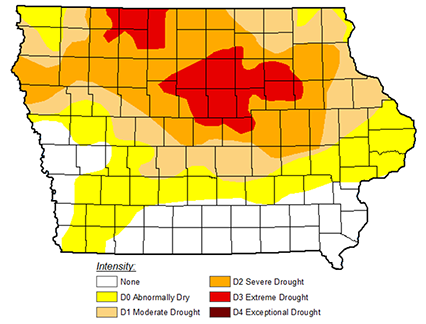 The areas were being scouted out ahead of time for the upcoming 2021 Pro Farmer Crop Tour. Scouts on crop tours have the job of evaluating likely crop production in each region. For more information on crop tours, visit this link.


Drought became an afterthought just days later. On August 24, 2021, the Midwest experienced multiple storms. Although the severity of the storms did not come close to derechos, they still left behind large paths of downed corn and soybeans. On August 28, 2021, South Dakota and southwest Minnesota even experienced baseball-sized hail.
According to Iowa State University (ISU) Extension Field Agronomist Terry Basol, "The storms hit northeast Iowa farms pretty good, honestly." Basol said, "It's amazing the scope of the crop damage," he continued, concerned about the pace of harvest and crop quality.
Unfortunately, the rain has come too late for many crops, and on top of that, some areas are even flooding. One person, Iowa State University Extension crop specialist Angie Rieck-Hinz, said, "The crop is highly variable. Crop conditions are literally all over the place."


What's to Come?
Amidst all these natural disasters and climate change, what can be expected for the future of agriculture in Iowa? In April 2021, the Environmental Defense Fund commissioned KCoe Isom, an agricultural consultancy, to model the potential climate change impacts on Iowa corn, soy, and silage production over the next two decades. According to that site, "Iowa farmers could see statewide gross farm revenues reduced by as much as $4.9 billion per decade. Because with climate change agricultural prices are likely to rise, relative to without climate change, the impact to gross farm revenues from yield impacts will be offset to some degree by higher prices."
Unfortunately, the increase in climate change (and resulting natural disasters) is likely to continue reducing levels of crop production. This will result in an increase in food prices where those crops are sold, affecting consumers across the country.
The roles for data science and related research around climate and agriculture are growing: in September 2021, the National Science Foundation funded a new multidisciplinary institute led by the University of Illinois, called I-GUIDE, which is focused on better understanding the risks associated with climate change.


Get Involved
Contact the Midwest Big Data Innovation Hub if you're aware of other people or projects we should profile here, or to participate in any of our community-led Priority Areas. The MBDH has a variety of ways to get involved with our community and activities.
The Midwest Big Data Innovation Hub is an NSF-funded partnership of the University of Illinois at Urbana-Champaign, Indiana University, Iowa State University, the University of Michigan, the University of Minnesota, and the University of North Dakota, and is focused on developing collaborations in the 12-state Midwest region. Learn more about the national NSF Big Data Hubs community.