Kim Bruch, West Big Data Innovation Hub Science Writer
Organized by UC Berkeley's Division of Computing, Data Science, and Society, with support from Microsoft and the West Big Data Innovation Hub, the Summer 2022 National Workshop on Data Science Education offered an array of insight about current data science education initiatives across the academic spectrum, from high school to undergraduate and graduate level programs as well as adult learners.
The latter two days of the workshop focused on national perspectives and programs for data science education, including student driven data science communities of support and learning. The National Science Foundation (NSF) Big Data Innovation Hubs hosted two panels alongside a program of presenters that discussed topics such as investigating the ethics behind algorithms, incorporating Python into statistics and computer science classes, and the latest developments in data science education and community building.
"The West Hub was happy to coordinate the NSF Big Data Hubs' contribution to this workshop," said West Big Data Innovation Hub Executive Director Ashley Atkins. "It was an opportunity to share with a national audience some of the undergraduate-focused work the Hubs are pursuing across the country."
Many lessons learned were discussed during the NSF Big Data Hub panel entitled "Building National Capacity for Student-Driven Data Science Communities." The panel was moderated by Northeast Big Data Innovation Hub Executive Director Florence Hudson and included presentations by John MacMullen, Emily Rothenberg, Scott Blender, Abhishek Sinha and Rajeev Bukralia.
"The National Student Data Corps began as a grassroots effort in the Northeast region in 2021, and grew to nearly 3,000 community members by June 2022 across the U.S. and in 20 countries around the world," said Hudson. "Students, professors, industry and nonprofit data science professionals worked together to build this dynamic community of support to increase data science awareness and provide free open online data science resources for students and educators, along with data science career panels, mentoring via a 500-person slack channel, career and chapter resources. We are working together to democratize data science for all."
Temple University Engineering and Data Science Student Scott Blender talked about the National Student Data Corps (NSDC) from a student perspective—focusing on goals of the chapter systems. He said that their aim is "to inspire, educate, and serve local communities with professional development opportunities by leveraging NSDC resources and events."
A similar student-aimed program discussed was the Midwest Big Data Innovation Hub's Data Science Student Groups Community. Rajeev Bukralia, professor at Minnesota State University, Mankato, also spoke about his development of the Data Resources for Eager and Analytical Minds (DREAM) student group, which is the largest registered student organization on campus, and brings data science perspectives to students from many disciplines. Details about both DREAM and NSDC can be found on their respective websites.
"We are focused on building a group of student leaders to share best practices about how to grow inclusive, multi-disciplinary student organizations," said Executive Director of the Midwest Big Data Innovation Hub John MacMullen. "Learning from more established groups such as DREAM can help newer student organizations understand how to build strong, diverse teams with engaged participants."
Another great NSF Big Data Hub Panel at the workshop was entitled Data Science Program Development. South Big Data Hub Executive Director Renata Rawlings-Goss of Georgia Tech opened the panel with a thorough explanation of how they developed their data science education efforts.
West Hub principal investigator Jennifer Chayes gave an overview of Berkeley's Division of Computing, Data Science, and Society (CDSS), where she serves as associate provost.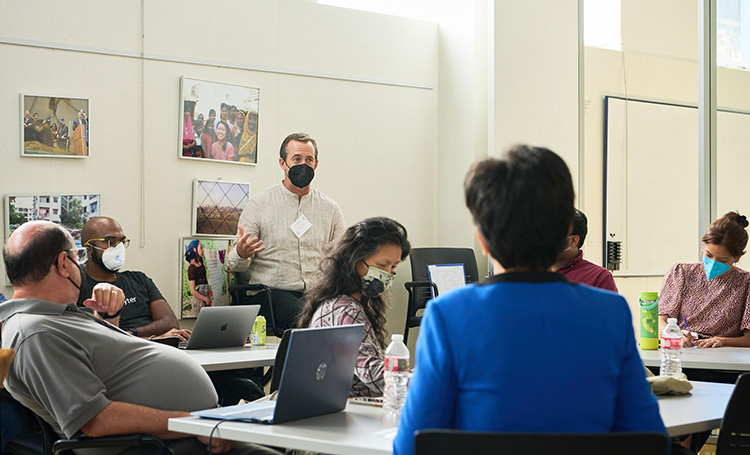 "This is the fifth annual conference and the West Big Data Hub has always been a key partner-stakeholder in convening folks in this space. It was great to have multiple hubs collaborating to share so many perspectives," said CDSS Technology and Outreach Lead Eric Van Dusen, who organized the workshop.