For Fall 2022, the Midwest Big Data Innovation Hub (MBDH) has four new interns joining the team to work on a variety of projects. One intern, Shruti Ravichandran, is focused on outreach to help build our student community platforms. Three others, Aisha Tepede, Isabel Alviar, and Sasha Zvenigorodsky, will be focused on science communication, helping to tell the stories of our collaborators and amplify the many community-led data science projects in the Hub's 12-state region. All will learn about the range of activities and communities the MBDH is involved in, will receive mentoring, and will have opportunities for career development. Below are details on the great backgrounds and interests the students bring to the MBDH community.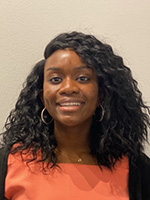 Aisha Tepede (she/her) is a Science Communications Intern at MBDH this semester. She is a second-year Master of Public Health (MPH) student in the College of Applied Health Sciences at the University of Illinois at Urbana-Champaign (UIUC). She will be graduating this December with a concentration in Health Promotion and Education. Aisha has previously worked with Cook County Health as a case investigator for COVID-19 and with the National Institutes of Health as a clinical research fellow, focusing on a rare disease called multiple endocrine neoplasia type 1.
She has a social and behavioral health background involving chronic diseases and underrepresented populations. With this interest, she branched out into the global health research realm. She had the opportunity to spend the summer in Kenya by participating in the Minority Health and Health Disparities Research Training Program (MHRT) funded by National Institute on Minority Health and Health Disparities (NIMHD), where she spent time researching sexual and reproductive health training with adolescent students.
Long term, Aisha has a goal of becoming a public health physician-scientist. She states, "I plan to use my experiences and background to be able to improve communication between physicians and marginalized patients—whether that means patients with a rare disease or a part of an underserved community." Apart from her aspiration for proper clinician and patient communication, she says "I envision myself as a physician who will actively engage in improving the health of underserved populations, through a combination of community health research and culturally sensitive approaches to medicine and patient care."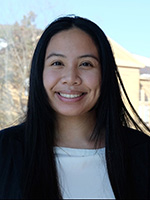 Isabel Alviar is joining MBDH as a Science Communications Intern this semester. She is a senior at UIUC studying Computer Engineering with a minor in Statistics. Next year, she plans on pursuing her master's degree in Computer Science, specializing in either artificial intelligence or data science. Currently, she is developing parallel-computing machine problems for programming classes at UIUC, and analyzing and summarizing data for an engineering education research conference.
Isabel is interested in pursuing a career that revolves around using data, whether as a software engineer or data scientist/analyst. This summer, she worked at Procter & Gamble (P&G) as a software engineer intern in their Data & Analytics department, automating the process of importing and updating metadata between objects in data platforms to a central Data Catalog. She also pitched the idea of a smart chatbot for the catalog and created a prototype using artificial intelligence/machine learning (AI/ML) that will continue being implemented by P&G based on her code and research.
She believes that the work being done by the Midwest Big Data Innovation Hub is exciting and inspiring. Isabel hopes to use her passion for science and technology to bring people's stories, research, and scientific discoveries to life through writing. One of her favorite quotes is, "The science of today is the technology of tomorrow."

Sasha Zvenigorodsky is joining MDBH this semester as a Science Communications Intern. As a senior at UIUC, Sasha is pursuing a BS degree in Crop Sciences. Outside of class, Sasha has been conducting research with UIUC's Small Grains Improvement lab under Dr. Jessica Rutkoski, studying the correlation between vernalization and overall grain yield of winter wheat.
As a scientific researcher herself, Sasha is conscious of the important intersections between science and writing. Sasha says, "A major part of scientific research is the process of converting it into a language that can be easily understood by both experts and nonexperts alike." Through writing, she hopes to make new scientific findings and developments more accessible to the public.
Sasha aspires to use her own experience working within a STEM field as well as her passion for creative writing to raise awareness for new innovations and findings in science. "Ultimately, giving individuals the right tools to stay educated and aware is the best way to catalyze positive change in society today," she says.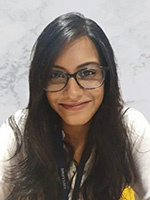 Shruti Ravichandran is joining MBDH as a Project Coordination Intern in Fall 2022. She is a first-year master's student majoring in Information Management.
She gained interest in the field of data during her undergraduate degree in Electronics and Telecommunication Engineering, while researching about this field online to write an article for a technical magazine published by her school. She began building her skill set in analytics and landed a job at ZS Associates, India, as a Decision Analyst after she graduated in 2020. At ZS, she worked in the healthcare vertical on several big data analytics and data science projects in therapy areas such as leukemia, multiple sclerosis, and glaucoma. These experiences brought her the realization that information management has immense potential to influence actions and decisions that make the world a better place. She aspires to work on such endeavors during her career as a data professional.
She sees working at the Midwest Big Data Innovation Hub as a huge opportunity for her to give back to the community of data professionals by bringing together student groups across the region that are interested in this field. Her goal is to help build a community of data enthusiasts that understand the power of analytics, the responsibility they have to uphold the ethics of handling information, and the positive change that it can bring in a wide range of fields such as education, agriculture, and healthcare, among others.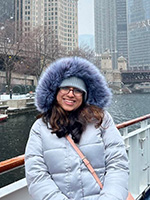 Iishi Patel is joining MBDH as a Science Communications Intern for Spring 2023. She is in her second semester in the graduate program of Master of Science in Information Management at the University of Illinois at Urbana-Champaign. She is specializing in Data Science and Analytics and is looking forward to pursuing a career as a data scientist.
Iishi has experience working in data teams of various industries such as travel and tourism, electronics, and telecommunications. She also has research interests in graph neural networks and network security themes. She believes that with the rise of artificial intelligence technologies, we can achieve great automation as well as strength in the field of network and cyber security. Her previous work was to detect DNS over HTTPS (DoH) tunneling [which encrypts Domain Name System (DNS) traffic by passing DNS queries through a Hypertext Transfer Protocol Secure (HTTPS)-encrypted session] using deep neural networks. She is also an incoming Data Engineering Intern at Tesla with the Vehicle Safety and Homologation team this summer.
She believes "Data is a magnetic component to drive the world and its humankind into a path of refinement" and working with the Midwest Big Data Innovation Hub is a great opportunity for her to combine her passion for writing with the field of her interest (i.e., data science and security). Iishi hopes to bring forward great stories to inspire people in the field of technology and create an awareness of the latest trends in it.
MBDH Executive Director John MacMullen said, "We're excited to be able to continue this intern program for another year. The incoming students bring diverse experiences and a wide range of interests. We look forward to having the MBDH community engage with them to tell the stories of the innovative work happening across the region."
The MBDH has a number of events planned for Fall 2022, including our ongoing webinar series: the Collaboration Cafe, Midwest Carpentries Community, and Data Science Student Groups series, and the Water Data Forum, all open to participation from people across the region.


Get involved
Contact the Midwest Big Data Innovation Hub if you're aware of other people or projects we should profile here, or to participate in our activities, which include a data science student community.
The Midwest Big Data Innovation Hub is an NSF-funded partnership of the University of Illinois at Urbana-Champaign, Indiana University, Iowa State University, the University of Michigan, the University of Minnesota, and the University of North Dakota, and is focused on developing collaborations in the 12-state Midwest region. Learn more about the national NSF Big Data Hubs community.