For Fall 2023, the Midwest Big Data Innovation Hub (MBDH) has three new science communications interns joining the team to help tell the stories of people and data science projects in the Hub's 12-state region. The interns will learn about the range of activities and communities the MBDH is involved in, will receive mentoring, and will have opportunities for career development. Below are details on the wide-ranging backgrounds and interests the students bring to the MBDH community.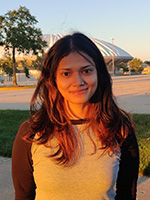 Shruti Gosain is joining MBDH as a Science Communications Intern this semester. She is a first-semester student pursuing a Master's degree in Information Management in the School of Information Sciences at the University of Illinois at Urbana-Champaign. Shruti's passion lies in working with data to generate innovative insights. She firmly believes that well-structured data, rather than raw data itself, holds the power to drive innovation.
Working with data is where Shruti thrives, and she is enthusiastic about diving deep into data analysis. Additionally, she possesses a strong inclination for writing and expressing her ideas. During her undergraduate years, Shruti had the privilege of representing her college in numerous debating tournaments, further fueling her passion for articulating her viewpoints and engaging in meaningful discussions. She finds a unique thrill in sharing thoughts and participating in intellectual exchanges. As a Science Communications Intern at MBDH, Shruti views this role as an ideal opportunity to blend her data-driven and communication skills.
"I am learning to learn," says Shruti. She believes that there is always something to learn from various walks of life. What resonates most with Shruti about MBDH is its mission to enhance the data ecosystem through the promotion of strong networks encompassing academia, industry, government, and various organizations. She is eager to learn about different things and contribute by writing articles on diverse research topics.
In a nutshell, Shruti is thrilled to start on this journey, eager to contribute to its mission while refining her skills and expanding her knowledge. She looks forward to a semester filled with exciting opportunities and personal learnings!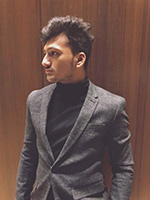 Jas Mehta is joining MBDH as a Science Communications Intern for Fall 2023. He is currently pursuing a Master of Science in Information Management degree with a specialization in Data Science and Analytics at the University of Illinois at Urbana-Champaign, with expected graduation in May 2025.
In the realm of artificial intelligence (AI), Jas Mehta's passions are directed towards the domains of learning, deep learning, and data science, which have captured his interest due to their wide-ranging applications and profound significance across diverse industries and professions; his professional background, encompassing roles such as Data Science Engineer at CWD Innovations and Machine Learning Engineer at Reliance Jio, has only deepened his commitment to these fields. These hands-on experiences have equipped him with invaluable skills and profound insights, positioning him as a catalyst for innovation and transformation within the realm of data science.
Jas' pursuits are firmly anchored in exploring the vast potential of data-driven solutions to address pressing healthcare challenges. Whether it involves using data for predictive diagnostics or optimizing healthcare operations, he steadfastly believes that the synergy between data science and healthcare can unlock groundbreaking insights and innovations. He says, "Data is not just a collection of facts and figures; it's the heartbeat of innovation, the foundation of informed decision-making, and the key to unlocking a brighter future."
As Jas sets sail on his exciting voyage with the MBDH, he eagerly anticipates diving into the dimensions of research and storytelling. His inspiration flows from the opportunity to partake in a multitude of projects and narratives that possess the power to "let the data speak," creating concrete impacts, enhancing awareness, and fostering positive societal change.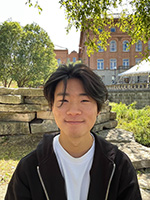 Ken Ogata is joining MBDH as a Science Communications Intern this semester. He is a sophomore at the University of Illinois at Urbana-Champaign studying Statistics with a minor in Computer Science.
As a newcomer to the Midwest, Ken believes that working at the MBDH will give him insight into the interconnected system of the Midwest states and how data plays a role in bringing it all together.
Ken is pursuing a career in data science and has spent the last two years exploring the intersection between data, computers, and everyday life. He hopes that his contributions to the MBDH will not only be a learning experience for him, but also communicate how crucial data and computer systems are to the greater Midwest.
"It's hard to keep track of all the cool advancements our state is making, especially given how fast the world is moving nowadays," Ken said. "I really want to learn more about my prospective career, and I think the best way to learn is to write about it."
"I am delighted to welcome our three new Science Communications Interns, Shruti, Jas, and Ken, to the Midwest Big Data Innovation Hub for the Fall 2023 semester," said J.D. Graham, Outreach and Engagement Specialist for the MBDH. "Having met them, I am excited about the unique knowledge sets, interests, and perspectives they each bring to the Hub."
"Each intern has their individualized strengths. Shruti's passion for structured data analysis paired with her communication talents makes her well-suited to translate complex topics. Jas' professional experience in AI and hands-on engineering roles gives him a unique lens for conveying how data drives innovation. And Ken's emerging perspective as a newcomer to the Midwest region will help broaden our narratives about how data connects communities. Their fresh insights will help to expand the reach and impact of the Hub's storytelling as they showcase the diverse ideas from the Midwest that connect us all to data science."
"Over the past two years, the MBDH intern program has been extremely well received by the regional data science community, NSF, and the interns themselves," said John MacMullen, MBDH Executive Director. "We look forward to working with Shruti, Jas, and Ken this year as they help tell the stories of our regional community and develop their own skills and interests."
The MBDH's community-convening work continues in fall 2023, including multiple webinar series: the Collaboration Cafe, Midwest Carpentries Community, and Data Science Student Groups series, and the Water Data Forum, all open to participation from people across the region.


Get involved
Contact the Midwest Big Data Innovation Hub if you're aware of other people or projects we should profile here, or to participate in our activities, which include a data science student community.
The Midwest Big Data Innovation Hub is an NSF-funded partnership of the University of Illinois at Urbana-Champaign, Indiana University, Iowa State University, the University of Michigan, the University of Minnesota, and the University of North Dakota, and is focused on developing collaborations in the 12-state Midwest region. Learn more about the national NSF Big Data Hubs community.