Art is how a culture records its life, how it poses questions for the next generation, and how it will be remembered. A team from the AI and VR Lab at the University of North Dakota (UND) is developing a multiuser computer environment for competitive powwow dancing, called the Native Dancer Project, which uses art and technology to embody Native culture. Characters within the multiverse will move in ways associated with Native dancing and consist of models dressed in street clothing as well as in Native dance regalia found in dances custom to the Anishinaabe, Dakota, Lakota, Sioux, and other northern plains-associated tribes.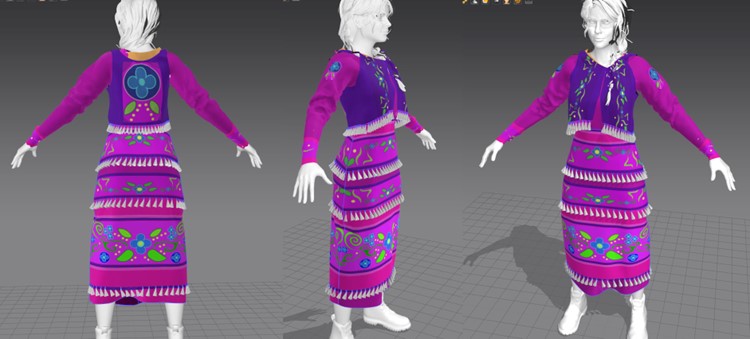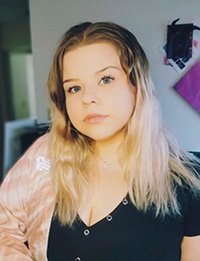 Among the team of artists and designers is Ariann Rousu, whose work involves designing the digital gaming characters. Ariann has received a Photography and Digital Imaging certification, earned her Associates Degree in Liberal Arts and Fine Arts, and graduated from UND with a Bachelor of Fine Arts degree in 2022. In addition to her extensive art and design background, she brings a unique perspective to the Native Dancer Project from growing up on a reservation in Callaway and as a current member of the White Earth Ojibwe Nation in Minnesota. She says about the project, "It has always been important to me to keep learning and expanding my skill set as an artist as well as play my part in being prideful of, preserving, and sharing my Native culture. This project is challenging me to do just that, and I am grateful for the opportunity."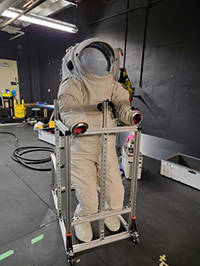 Interestingly, Ariann's role on the Native Dancer Project did not actually start with designing. When she first started working in the AI Lab at UND, her job was to test the range of motion of a space suit for NASA potentially going to Mars and perform data analysis on the movements. In order to do so, her team tested multiple individuals in the space suit using motion picture software by putting sensors all over their bodies and recording numerous movements using small cameras. Her space suit research was a great learning opportunity for the motion picture capture process and developing her visual skills as an artist.
Since then, Ariann's main focus has been creating the digital characters and their clothing for the Native Dancer Project. The goal of these characters is not to be modeled after a specific individual, but rather, they are being developed to represent someone who could be a member of a northern plains-associated tribe. A large part of Ariann's work when designing these game characters is trying to maintain a level of realism and respect so they are not too cartoon-like and accurately portray modern powwow dancers today. She says, "Even though I am Native, it is important to remain aware of and be open to learning how to more accurately represent the culture and dances." Additionally, her goal for creating the clothing is to keep it modern, stylish, and modest, while maintaining Native influence.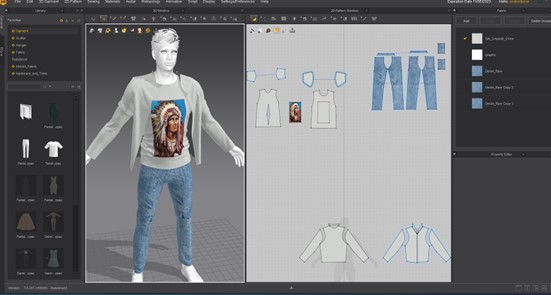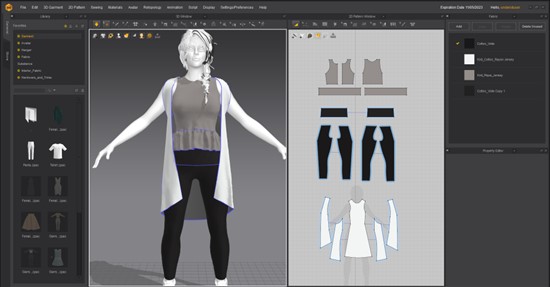 Photography is about light, and oftentimes, digital art does not look realistic because people do not understand how light works in the digital realm. For a project centered around realistically portraying Native culture, in the early stages of the project, it was less about creating characters and more about Ariann learning how to use new tools proficiently. From her previous photography experience, she had worked with the Adobe Creative Suite and other 3D modeling programs, but she was also introduced to new software for the Native Dancer Project. The characters for the project are being developed using a program called Character Creator 4 (CC4) by Reallusion, where designers can customize avatars in various styles. The clothing is being created with a program called Marvelous Designer that helps artists design garments and add intricate patterns and detailing for 3D characters. Every week, Ariann writes blog posts detailing the progress she has made, such as the steps she took, and any challenges that arose. At this stage, Ariann has successfully developed two characters—a male and female—with realistic features and characteristics. Additionally, she has completed a few street clothing outfits for the characters that include articles of clothing such as pants with basic patterns, fitted t-shirts, skirts, etc. Her goal for the next month is to have the first piece of regalia finished, a traditional Jingle Dress for the female character. Further down the line, her goal is to have more characters with multiple regalia features. She also hopes to use her motion picture capture experience to record real Native dancers, then use and modify the data to help create fully dressed characters that demonstrate powwow dancing.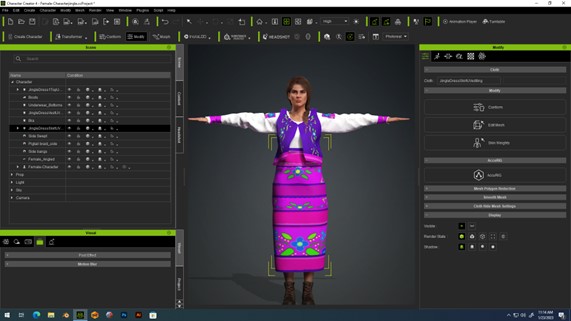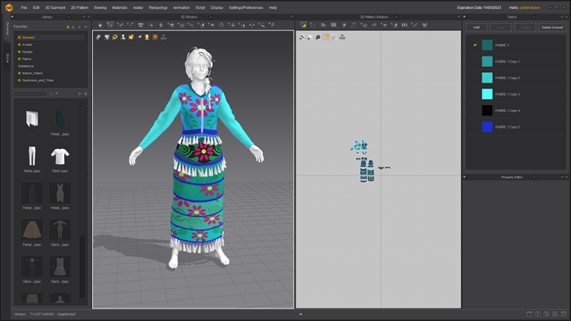 If art is how a culture records its life, then the beauty of both art and culture is that they are ever-changing with time. Although Ariann has her goals for the direction of the Native Dancer Project, she admits, "Even I don't know exactly what it's going to look like in the future. But it will be interesting and I'm excited to see where it goes."


Get involved
Contact the Midwest Big Data Innovation Hub if you're aware of other people or projects we should profile here, or to participate in our activities, which include a Data Science Student Community and other regional activities, such as the Collaboration Cafe and the Midwest Carpentries Community.
The Midwest Big Data Innovation Hub is an NSF-funded partnership of the University of Illinois at Urbana-Champaign, Indiana University, Iowa State University, the University of Michigan, the University of Minnesota, and the University of North Dakota, and is focused on developing collaborations in the 12-state Midwest region. Learn more about the national NSF Big Data Hubs community.