For Fall 2021, the Midwest Big Data Innovation Hub has four new interns joining the team to work on a variety of projects. One intern, Sushma Mahadevaswamy, will be working on project and events coordination. Three others, Raleigh Butler, Erica Joo, and Qining Wang, will be science writers, helping to amplify the many community-led projects in the Hub's 12-state region. All will learn about the range of activities and communities the MBDH is involved in, and will receive mentoring and have opportunities for career development.
The MBDH has a number of events planned for Fall 2021, including ongoing webinar series (Water Data Forum, Data Science Student Groups), a new research development series called the Collaboration Cafe, and a two-day Regional Community Meeting, open to all.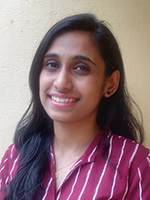 To help develop these events, and do outreach to our student community, Sushma Mahadevaswamy has joined the MBDH team as a project coordination and events intern. She's currently pursuing her master's degree in information management at UIUC. Previously, she was a software developer for 3 years at Cisco. Hailing from the silicon city of India, she's well versed in cloud computing, problem solving and algorithms (she knows her Big O's), and software development.
While working at Cisco, she handled application security, across six cross-geographical teams based in India and the USA, through collaboration and communication. She loves to organize events to motivate her team. She's a vibrant individual, who was an MC for various global events. Her strengths lie in development as well as efficient management of projects.
Her goal is to bridge the gap between technical and business aspects of product/project management. She's excited to put her skill set to good use at MBDH. She will be engaging with the student community to organize knowledge-sharing events that will enrich the data science community.
In her spare time, she usually paints or goes on a hike. She's done three Himalayan treks and hopes to ascent Mt. Everest one day. She also believes in giving back to the society and she regularly volunteers to teach underprivileged children. Her favorite quote is, "Make a difference, not a living."

With programmatic activities ranging from the MBDH's partnerships in its Community Development and Engagement (CDE) program, to other Priority Area work, exciting new projects in the region, and the events described above, there is a lot for the science-writing interns to draw from. They will be focused on telling the stories of the projects and the people—researchers, students, partners, and collaborators—and how the work they are doing is impacting the Midwest region, the nation, and the world.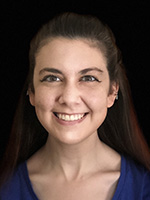 Raleigh Butler is one of the three science writers interning at MBDH for the fall semester. Her undergraduate degree was a dual major in Linguistics and French at the University of Tennessee, Knoxville. She recently got her MS degree in UIUC's Journalism program, graduating summa cum laude. Between the two degrees, she pursued a post-bac, focusing on introductory science courses.
Raleigh views science writing as a wonderful opportunity to combine STEM and the humanities. She aspires to "translate" technical verbiage into phrasing easily understood by the average reader. She emphasizes, "during these times of great scientific developments—not to mention health-related developments—it's critical that the wider population have an understanding of what's going on. By providing a reliable source of information that is also more understandable, perhaps we can assist in this education process." Indeed, people frequently want to learn without necessarily reading a full-length technical article.
She believes that access to easy-to-understand material instead of difficult-to-parse journal articles will reach the population more successfully and wants to do her best on that front. For example, recently, she has been writing about COVID-19.
Raleigh says "I'm extremely excited about this opportunity to begin pursuing my dream job and to learn more about the field."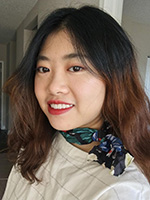 Qining Wang (she/her) also joins MBDH this semester as a science-writing intern. Born and raised in China, Qining moved to the USA in 2013 and received her BA degree in chemistry from Rutgers University in 2018. She is now in her fourth year of pursuing a PhD in chemistry at Northwestern University. Co-advised by Prof. Joe Hupp and Prof. Justin Notestein, she synthesizes heterogeneous catalysts supported on metal-organic frameworks and investigates their gas-phase reactivities.
Aside from conducting scientific research, Qining is also conscious of the broader impact of science. She strives to inform the public of the progress in science and technology by making cutting-edge science more accessible to a lay audience. She wants to tell the stories of scientific discoveries and scientists through a curious lens without invoking intimidating equations and jargon. Therefore, in addition to writing, she also explores different approaches to effectively communicate science, such as videos, podcasts, and social media.
Qining says, "there are so many barriers to accessing and understanding science, from the intricate language scientists use to talk about science to the academic publications behind paywalls. As a scientist, I am responsible for removing those barriers."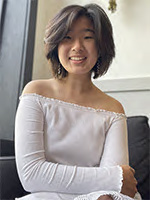 Erica Joo (she/her) is the third science-writing intern at MBDH this semester. As a junior at the University of Illinois at Urbana-Champaign, Erica is pursuing her BS degree in Molecular and Cellular Biology with a minor in Journalism. Additionally, she is an undergraduate researcher in Dr. Joe Qiao's lab, and her research project is focused on meiotic checkpoint pathways and investigating certain enzymes involved with DNA repair pathways.
While being involved on the frontlines as a healthcare worker during the pandemic, she noticed a disparity in information about COVID-19, especially with the perpetuation of misinformation across the media. Erica recalls. "I felt that I wanted to be a part of the change that the world desperately needed at the time." Combining her two passions, science and writing stories, was a catalyst in the evolution of her life. Erica has a strong interest in social issues and science research, and as a biology student herself, she understands the difficulty in understanding science at face value. "Navigating from one discipline to the other, I'm ultimately trying to create a common ground in my versatility."
She aspires to take her experiences and academic background to not only help readers make sense of the science behind various types of research but to also address questions that the general public may wonder about and make it easily accessible. With high hopes and ambitions, Erica imparts, "from my experience in both fields, my job is always to write effectively so that audiences without extensive knowledge on a particular field can also learn and develop their own thoughts."
MBDH Executive Director John MacMullen said, "We're excited to have such a talented group of interns who bring a diverse set of skills and experiences to the Hub this semester. We look forward to seeing the work they produce and having the community engage with them on the wide range of data science activities happening across the region."


Get involved
Contact the Midwest Big Data Innovation Hub if you're aware of other people or projects we should profile here, or to participate in our activities, which include a data science student community.
The Midwest Big Data Innovation Hub is an NSF-funded partnership of the University of Illinois at Urbana-Champaign, Indiana University, Iowa State University, the University of Michigan, the University of Minnesota, and the University of North Dakota, and is focused on developing collaborations in the 12-state Midwest region. Learn more about the national NSF Big Data Hubs community.