By Raleigh Butler
The Midwest Big Data Innovation Hub is committed to building data science instructional capacity in the Midwest region, particularly at smaller colleges and universities, such as predominantly undergraduate institutions (PUIs).
One avenue for this is the Midwest Carpentries Community, a partnership between the MBDH and the University of Wisconsin-Madison, under the Hub's Community Development and Engagement (CDE) incubator program.
The project aims to build "hands-on data science instruction capacity," by using the existing curriculum and workshop model of The Carpentries, an international member-supported organization that strives to teach data science and coding skills on a global scale. The organization is structured around three lesson programs: Software Carpentry, Data Carpentry, and Library Carpentry, which are "communities of Instructors, Trainers, Maintainers, helpers, and supporters who share a mission to teach foundational computational and data science skills to researchers."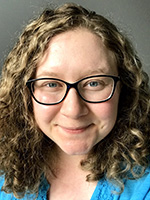 In this post, we will focus on a discussion with Sarah Stevens, who leads the Midwest Carpentries Community. Stevens is a 2021 member of the Executive Council for The Carpentries. She is also a Data Science Facilitator at the University of Wisconsin–Madison, in the Data Science Hub within the Wisconsin Institute for Discovery and American Family Insurance Data Science Institute.
How did you get involved with The Carpentries?
"I did my undergrad at the University of Illinois. My degree was in molecular and cellular biology, but I did a minor in informatics. And when I came to graduate school, I found that none of my classmates had done any coding and they didn't know computation. And almost all of them had to learn how to do some computational analysis over the course of grad school. So to help support [them], I started a community of practice around helping each other with our computational needs and learning from one another. I was trying to bring people together not just to discuss the biology in our research, but actually the computation in our research, and in doing so I also got connected with The Carpentries community. There's been an ongoing Carpentries community since long before my time at the University of Wisconsin-Madison. And my advisor recommended 'maybe you should sign up for instructor training so you can learn how to teach these things better.'"
What are some of the main projects you've worked on during your time there, specifically in the Midwest?
"I've been trying to bring together researchers in the Midwest who are either running Carpentries communities of their own or want to get started with Carpentries communities. We've been hosting a monthly call to bring those people together to help each other, similar to the community of practice I started in grad school. I'd say probably instructor training is one of the things that I find the most useful and interesting in The Carpentries. I think it's really cool to talk to other instructors about how to teach, and how to teach using evidence-based research, and how to teach computational skills and learn from one another."
What are some of the skills that people develop in Carpentries workshops?
"They [the learners] come to learn R, Python, the Unix shell, and Git, but what I really want them to get is a foundation where they believe that they can learn more. I feel like a lot of people come to our workshops feeling like computing and technology is not for them. Maybe they've even had bad experiences trying to learn coding in the past. What I really want people to learn and come away with from our workshops is that they can learn this."
What has been different about doing Carpentries-related activities specifically during the pandemic?
"Moving online has its own challenges. Being a part of a community of instructors, who are also all dealing with this transition to online at the same time, I got to learn a lot from what other people did and how it worked for them. So, as a community, we were able to share tips and tricks and best practices for moving online and learn from one another. That's really one of the things I love most about The Carpentries community is being able to benefit from other instructors' experiences."
"I will say the worst part about moving online is that while I totally respect folks not turning on their video, it's a little less rewarding to teach to a screen. You do get feedback, like the sticky note feedback we collect in Google forms and people typing in chat, 'this was a great workshop.' But you don't get to see them actually overcome that boundary of 'I didn't think I could do it—and I can do it now or this makes sense to me suddenly.' And so it's a little less rewarding to teach online, I will say, but I do feel like it's been a good learning experience of having to pivot and practice these skills in a different way of teaching and checking in with learners."
You proposed the Midwest Carpentries Community project for the MBDH CDE program—what did you perceive as the need for that?
"I'm seeing communities start to form in other places across the world. And I think it's really great for creating new Carpentry communities and teaching these important skills across the globe. I was running into people from other institutions who had interacted with The Carpentries in some way. I wanted to be able to share my experience with The Carpentries like at UW–Madison; what works well with the UW–Madison Carpentries community, with other folks in the Midwest and working to learn from them as well."
"So, what works well at Illinois, what are they doing that we can learn from? Are they creating new workshops that we too could use? That's where I saw the need—I wanted to be able to support these new instructors and new communities that we're developing in the Midwest, and learn from the existing communities that have been teaching Carpentries workshops for a while and doing new and interesting things."
What would you say to someone new to The Carpentries world about why it's valuable to participate in the community beyond attending a workshop?
In addition to offering the teaching of various skills, Stevens says "I think it's really valuable. There's so many things you get from it, you learn a lot about building an inclusive community as that is a big part of the Carpentry community."
She adds, "I see a lot of networking—developing an interpersonal network and being able to find employment in the future is also a benefit of this, but you make connections with other institutions and learn from them and other organizations across the globe, really, and so it's a great opportunity to learn from others, not just being in the workshop, but observing other people in our community and their activities they're up to."


Get involved
Contact the Midwest Big Data Innovation Hub if you're aware of other people or projects we should profile here, or to participate in our activities, which include a data science student community and the national BD Hubs monthly webinar on data science education and workforce development.
The Midwest Big Data Innovation Hub is an NSF-funded partnership of the University of Illinois at Urbana-Champaign, Indiana University, Iowa State University, the University of Michigan, the University of Minnesota, and the University of North Dakota, and is focused on developing collaborations in the 12-state Midwest region. Learn more about the national NSF Big Data Hubs community.