By Iishi Patel
Data science awareness is becoming increasingly important in today's world as the amount of data generated daily is growing exponentially. With the right skills and knowledge, data science can be leveraged to solve complex problems across various domains, from healthcare to finance and beyond. Therefore, the need for initiatives like the National Student Data Corps, which aims to create awareness about data science, has never been more critical.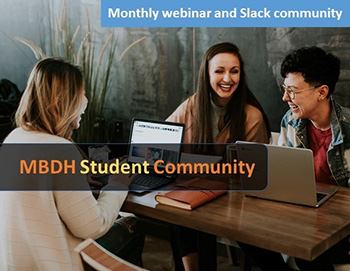 The National Student Data Corps (NSDC) is a community-based project that teaches data science fundamentals to students across the USA and other countries, with a focus on underserved students and institutions. It began in 2020 with the launch of its first chapter in the northeastern region. Today, the NSDC community includes over 3,550 individuals from 532 institutions in the USA and 26 other countries. The NSDC's goals include giving access to resources and research opportunities in data science. It also provides resources for career development in this field and shows its commitment to diversity, equity, inclusion, and accessibility through panel discussions, Slack discussions, and newsletters.
With the growth of data science enthusiasts in the Midwest, NSDC proudly launches its Midwest Regional Chapter under the leadership of Florence Hudson, the executive director of the Northeast Big Data Innovation Hub; Emily Rothenberg, the program coordinator; and Lauren Close, the operations manager. The NSDC's Midwest Regional Chapter plays a crucial role in expanding access to data science education and resources to students and enthusiasts across the region. By providing a platform to learn, share ideas, and collaborate, the chapter empowers its members to develop their data science skills and advance their careers. The Midwest Regional Chapter is also supported by J.D. Graham and John MacMullen from the Midwest Big Data Innovation Hub. The chapter already has members from Illinois, Michigan, and Minnesota and encourages students, enthusiasts, and learners across the region to grow and learn about data science in new and exciting ways.
The Midwest Regional Chapter aims to reach out to a broad audience, from students who want to learn data science outside of a regular institution to enthusiasts at all levels. The program coordinator Emily describes the Midwest Regional Chapter as a space to continue their learning and a sense of community for people who cannot currently go to school, or a higher education institution, and want to keep up with data science technologies. The chapter is in the process of planning events like data science mentorship opportunities, webinars, and career panels.
The chapter is ready to invite participants for their flagship event, the 2023 Data Science Symposium, hosted by NSDC. Here, participants will get to present their research findings on a data science topic of their choice. The winner gets to showcase their research at a live event sponsored by NSDC.
In the immediate future of the chapter, the leadership aims to build a one-stop repository of resources for data science enthusiasts and invite students from all over the Midwest to join. The leadership also looks forward to having student representatives in various universities and colleges throughout the Midwest. The chapter also actively maintains a Slack channel to keep members updated about their latest events and engage in mentorship.
To become a part of the Midwest Chapter, you can sign up here. You can also follow their events calendar to stay up to date. A forthcoming event in collaboration with the Midwest Big Data Innovation Hub is an information session about Exploring Science Policy Careers. It's a great opportunity to learn about and interact with the chapter on April 7, 2023, at 12:00–1:00 p.m. CT/1:00–2:00 p.m. ET.


Get Involved
Contact the Midwest Big Data Innovation Hub if you're aware of other data science education-related people or projects we should profile here. We invite participation in any of our community-led Priority Areas. The MBDH has a variety of ways to get involved with our community and activities.
The Midwest Big Data Innovation Hub is an NSF-funded partnership of the University of Illinois at Urbana-Champaign, Indiana University, Iowa State University, the University of Michigan, the University of Minnesota, and the University of North Dakota, and is focused on developing collaborations in the 12-state Midwest region. Learn more about the national NSF Big Data Hubs community.