The Midwest Big Data Innovation Hub is developing a community of data science student groups across the Midwest region to share their experiences and best practices. This story is part of a series of student group profiles.
For this profile, we talked with leaders of the Iowa State University Data Science Club.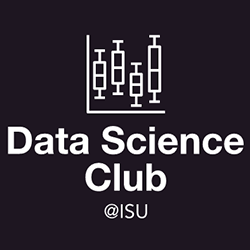 What are the goals of your group, and who is your core audience?
Our main goal is to promote the field of Data Science, whether it be information on the field, internship opportunities, school resources, or skills you need to learn to get a job in the field.
Our main audience is data science majors and any other adjacent majors with some prior coding experience. And anyone, in general, that would be interested in this type of career.
What kinds of activities have you done previously, and what do you have planned for this year?
We have focused a lot on company presentations and internship opportunities in the field. We have now been focusing on workshops surrounding data science essentials, like Google Cloud, Machine Learning, or Tableau basics.
What challenges have you faced in starting or maintaining your group?
One of the main challenges has been keeping people engaged. Workshops aren't super fun but essential to learning about the field. Company presentations are nice but don't appeal strongly to freshmen and sophomores. We have been working on making the club more of a community. Having members help each other with homework, talk about outside activities, have fun events occasionally that don't relate to data science, but just make a place for collaboration and talk to others about their love for the field.
What suggestions do you have for others who want to start a group on their campus, or expand their current group?
Start big, expect small. In the beginning, focus on appealing to as many as possible. Do as many things as you can to interest people. But always have a foundation for your goal as a group, stay centered, stay consistent. You may have a ton of people at the first meeting and very few at the next, but the key is to stay consistent and think big picture.
In terms of expansion, bring outside help, see if your school can help, collaborate with outside companies. Put yourself in a position where your group will not just be a fun place to hang out but a place that could benefit your resume and help bring you to experience for future internship opportunities.


Get involved
Are you a student group leader or advisor? We'd like to hear more about your group's activities. Contact us if you'd like us to profile your organization or participate in our student groups webinar series. You can also join our new Slack community to continue the discussion and make new connections.


About the Midwest Big Data Innovation Hub
The Midwest Big Data Innovation Hub is an NSF-funded partnership of the University of Illinois at Urbana-Champaign, Indiana University, Iowa State University, the University of Michigan, the University of Minnesota, and the University of North Dakota, and is focused on developing collaborations in the 12-state Midwest region. Learn more about the national NSF Big Data Hubs community.