By Raleigh Butler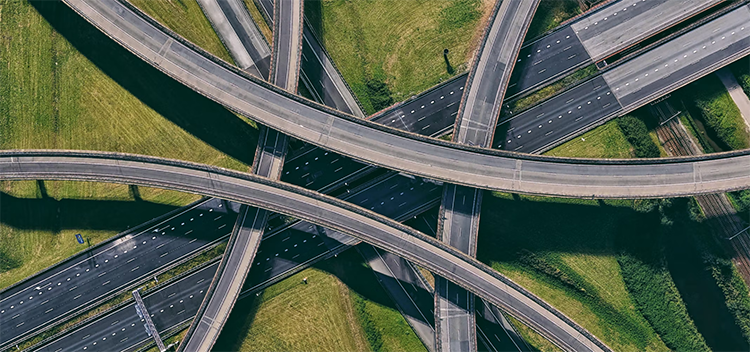 Did you know that, despite increases in technology, bridge health across the United States is decreasing? Bridges currently score a C on the country's infrastructure report card, which is a fall from last year's grade.
Within the Midwest, the percentage of structurally deficient bridges per state include the following:
• Iowa has the largest percentage, 19.0%.
• Minnesota has the smallest percentage, 4.7%.
The Midwest Big Data Innovation Hub's Smart & Resilient Communities priority area spans a range of disciplines, sectors, data, and cyberinfrastructure in its work to connect researchers and practitioners focused on community resilience. Bridges play key roles in community planning, resilient supply chains for food and goods, and in transportation capacity management.


Foundations
In 2018, a new regional innovation center project, "Smart Big Data Pipeline for Aging Rural Bridge Transportation Infrastructure (SMARTI)," was funded by a $1 million National Science Foundation (NSF) grant. The grant was aimed toward "rural bridge health management" and included faculty from both the University of Nebraska–Lincoln (UNL) and University of Nebraska Omaha (UNO). The work began with a planning grant in 2016, and both awards were part of the NSF's Big Data Spoke program, in collaboration with the regional Big Data Innovation Hub program.
The principal investigator for the project, Robin Gandhi, is from UNO's College of Information Science and Technology. The 16 research team members also include Daniel Linzell and Chungwook Sim, both from UNL's College of Engineering.
The SMARTI project focused on "mining existing data sets from private, state and federal partners, as well as collect[ing] new data through sensors on targeted rural bridges throughout Nebraska." The outputs of this work were presented through workshops and made available to researchers through the Bridging Big Data website.
"Our government and industry partners can better manage their aging rural bridges, improve their health and ultimately keep people safe using data and tools developed from our research," said Robin Gandhi. "We continue to engage stakeholders through companion research projects and by presenting our work at relevant technical meetings and conferences. For example, we will be presenting at the Midwest Bridge Preservation Partnership, the American Society of Civil Engineers Structures Congress in April, and the International Association for Bridge Management and Safety Conference in July 2022."


Student engagement
Six students from both the Lincoln and Omaha campuses who are working on these projects presented their research in October 2021 at the Midwest Big Data Innovation Hub's Regional Community Meeting, with a focus on the data sets and data science tools that are important to this work. Recordings of their presentations are available on the MBDH YouTube channel.


Next steps
Approximately three years after the start of the SMARTI project, the Nebraska team was awarded $5 million by the Department of Defense Army Corps of Engineers for research to extend the lifespan of bridges through new monitoring technology. This award was announced in October 2021.
The researchers will continue with their work on bridge safety. The team will use rural Nebraska as testbeds for locations to safely collect data, as well as to analyze "socio-technical impacts such as fairness of data, algorithms, and analysis; and intelligent decision-making and support systems."
"This project brings bridge owners, designers, and builders, big data solution providers, and academics together to discuss data-informed bridge infrastructure health and resilience in times of crisis," said Daniel Linzell. "Attendees at our last workshop heard from several stakeholders about the pandemic's impact on bridge infrastructure resilience from design, sensing, economic, and socio-political perspectives. Discussions such as these keep the research team focused on the importance of the work: developing sensing and big data technology applications that support smart, resilient, big data pipelines for aging rural bridge transportation infrastructure; highlighting solutions to data discovery and controlled sharing challenges; and unveiling novel data-driven decision-making tools."


Get involved
New activities to build the community of Midwest researchers and practitioners in the Smart & Resilient Communities priority area of the Midwest Big Data Innovation Hub are beginning in spring 2022. Contact the Midwest Big Data Innovation Hub if you're interested in participating, or aware of other people or projects we should profile here. The MBDH has a variety of ways to get involved with our community and activities.
The Midwest Big Data Innovation Hub is an NSF-funded partnership of the University of Illinois at Urbana-Champaign, Indiana University, Iowa State University, the University of Michigan, the University of Minnesota, and the University of North Dakota, and is focused on developing collaborations in the 12-state Midwest region. Learn more about the national NSF Big Data Hubs community.