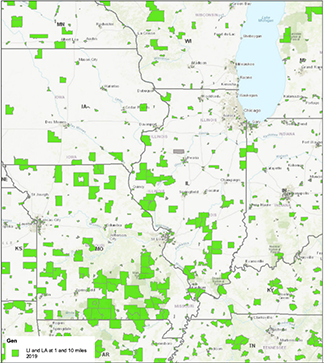 Most individuals native to Illinois would be shocked to hear that thousands of its residents reside in areas that are considered to be deserts. Not literal deserts, but rather food deserts, urban areas in which it is difficult to buy good-quality or affordable food. Although food deserts aren't covered by dry sand and hot sun, both types of "deserts" have one glaring similarity: hostile living conditions due to lack of food resources. The 2019 USDA Food Access Research Atlas (at right) demonstrates the frequency of food deserts throughout the Midwest, indicating areas where a significant number of residents live more than 1 mile (urban) or 10 miles (rural) from the nearest supermarket. As food accessibility issues are exacerbated by climate change, these food deserts have the potential to grow even more expansive.
The Midwest Climate Summit concluded in late February, a three-day event hosted by the Midwest Climate Collaborative (MCC; led from Washington University in St. Louis), with the purpose of gathering climate leaders, researchers, and other interested parties to address the escalating issue of climate change and promote new partnerships and collaborations. The Summit hosted multiple speakers and workshops, with topics ranging from agroforestry and silviculture to designing a circular economy.
All these topics have the same main goal: addressing climate change. Here, we explore one session that highlighted the critical impacts of climate change on food accessibility within Illinois. As global warming brings on intense weather fluctuations throughout the United States, standard agricultural practices are jeopardized and traditional farmers are thrown into uncertainty. Without solutions to this issue, food deserts throughout urban areas are likely to expand.
Hosting a panel that included a small regenerative farm, a family orchard, and a beekeeper, the Midwest Climate Summit introduced just that: solutions—specifically, the concept of urban farming.
Urban farming entails both the cultivation and distribution of agricultural products within urban and suburban areas. Hydroponic/aquaponic facilities, community gardens, and rooftop farms are all examples of urban farming. These methods have excellent potential to provide healthy, fresh foods to underserved areas with limited nutritional access. They also address climate change in big ways. For example, various urban-farming methods can utilize less water, less light, and less soil than traditional farming can, proving to be more sustainable and climate-friendly.
The ability to educate and raise awareness on issues like climate change and food insecurity is a big reason why panels like the Midwest Climate Summit are so important. Nonetheless, they are often missing an important target audience: children. Promoting the importance of local urban food systems to school-age children can be the key to establishing more sustainable and environmentally friendly communities over time.
This is demonstrated perfectly by the Gardeneers organization of AmeriCorps. AmeriCorps is an independent agency of the United States government that engages Americans in service positions through stipended volunteer work organizations. One such organization, called Gardeneers, involves urban-farming education targeted towards underprivileged children living in urban food deserts within Chicago. Their mission is to help create a more equitable food system with the help of specialized school garden and farm programs within Chicago's South and Westside schools. These programs can equip kids with the proper knowledge and skills to positively contribute to the environment and their communities.
"Climate change leaves these kids facing an uncertain future," says Galina Fesseler, Gardeneers volunteer. "Educating kids about food accessibility and urban farming is a great way to invest in their health and development."
Food is just one dimension of the larger impact that climate has on a region. Other sessions at the Midwest Climate Summit addressed related topics, such as water and health, which affect people in communities, and shared a wealth of information and resources that communities can use to help with climate resilience.
In collaboration with the MBDH, the MCC developed a prototype Climate Asset Map (CAM), which is an online interface that will help groups from different disciplines and sectors to access and contribute to climate-action information throughout the Midwest, such as information surrounding urban farming. The MCC received feedback from across the Midwest to a survey about information needs that researchers, practitioners, government agencies, and community groups have around climate-related resources. This informed the development of the CAM prototype, which was presented at the Summit for attendees to explore. The model was then refined and has just launched as the Midwest Climate Resource Network (CRN).
Urban farming is just one small example of the many ways to address climate change, hence the need for the CRN. With the help of this resource, organizations like Gardeneers can be interconnected with other groups throughout the Midwest, allowing for collaboration and collective success within the various realms of climate work.


Get Involved
Contact the MBDH if you're aware of other agriculture- or food-related people or projects we should profile here, or to participate in any of our community-led Priority Areas. The MBDH has a variety of ways to get involved with our community and activities.
The Midwest Big Data Innovation Hub is an NSF-funded partnership of the University of Illinois at Urbana-Champaign, Indiana University, Iowa State University, the University of Michigan, the University of Minnesota, and the University of North Dakota, and is focused on developing collaborations in the 12-state Midwest region. Learn more about the national NSF Big Data Hubs community.