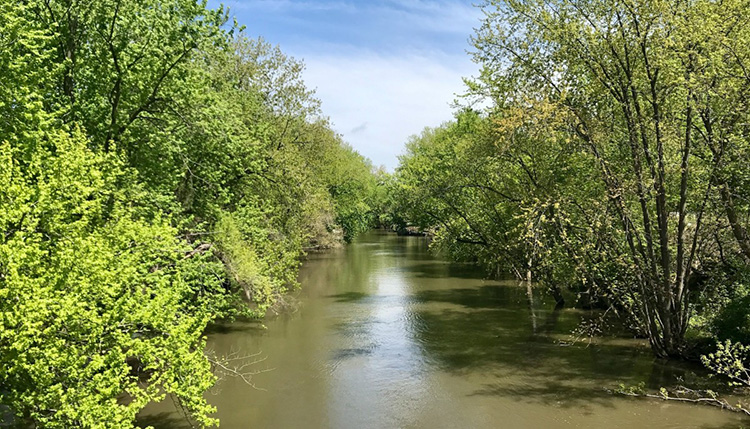 Aquatic invasive species (AIS) are freshwater or marine organisms that have been introduced beyond their native range. The word "invasive" speaks volumes, given the current state of aquatic ecosystems all around the world. Over the past 100 years, invasive species have contributed extensively to global aquatic biodiversity loss. Their presence has the potential to destroy entire ecological communities and threatens the safety of native species.
In the Upper Mississippi River Basin (UMRB), the threat of AIS is even more imminent due to its interconnected stream network and proximity to the Great Lakes. Species like silver carp, zebra mussels, and water hyacinth have all made the UMRB their home, growing fast and reproducing even faster. Left uncontrolled, these invasive species deplete important resources from the UMRB ecosystem that native species rely on for survival.
Thankfully, there are many organizations within the Midwest that work specifically towards keeping this issue controlled, one such organization being the Illinois RiverWatch Network. Established in 1995, the Illinois RiverWatch Network provides volunteers with an opportunity to monitor stream habitat and water quality within Illinois waterways. These volunteers, better known as "citizen scientists," collect important data that is used to determine how Illinois stream conditions are changing over time. For example, citizen scientists participate in an annual biological survey where they collect data on the diversity of macroinvertebrates living within a stream. According to the RiverWatch Network, a healthy aquatic ecosystem is indicated by the presence of macroinvertebrates, which are more sensitive to changes in water quality.
The volunteer-based science that RiverWatch promotes is significant for a number of reasons. "As researchers, we can only visit so many sites in a year. We just don't have the time, the resources, the budget for travel to hit everywhere," says Dr. Danelle Haake, Illinois RiverWatch director. "The people who are living in that community are going to be the ones who notice if something starts to change if something goes wrong. They're the ones that can bring it to the attention of other stakeholders, and of people who can make changes in their community." Having local volunteers to monitor Illinois stream conditions allows for more data collection within more communities statewide.
The Illinois RiverWatch Network is just one example of an organization that gathers data on AIS movement in the Midwest. There are many groups, including academic institutions and government agencies, which do the same. Despite this, there is no comprehensive, accessible inventory of all this data. This indicates a major barrier to addressing the AIS issue. Important data, such as the annual biological survey of the Illinois RiverWatch Network, falls short of its true potential when there is no opportunity for this information to be integrated into other disciplines that also focus on AIS management.
This year, the Midwest Big Data Innovation Hub's Water Quality priority area team will be organizing a workshop and other activities to address this issue directly, bringing together individuals from different backgrounds to focus on challenges regarding AIS data collection and interoperability. Prior to the workshop, the Water Quality team will be sending out a community interest survey to gain a better understanding of key data challenges and community needs surrounding AIS.
"The unique and vital roles of the Great Lakes and Mississippi River to the Midwest face challenges from aquatic invasive species," said John MacMullen, MBDH executive director. "Through our work understanding the data needs of the diverse stakeholders addressing AIS challenges in the region, we hope to facilitate new collaborations that can mitigate impacts to human health, foodsheds, biodiversity, and agriculture."
The spread of AIS spans multiple different areas, including biological, hydrological, and ecological topics. Related data is collected separately with tools unique to each domain. By integrating and improving data access, AIS research can be accelerated and AIS management can be drastically improved.


Get Involved
Contact the Midwest Big Data Innovation Hub if you're aware of other people or projects we should profile here, or to participate in any of our community-led Priority Areas. The MBDH has a variety of ways to get involved with our community and activities.
The Midwest Big Data Innovation Hub is an NSF-funded partnership of the University of Illinois at Urbana-Champaign, Indiana University, Iowa State University, the University of Michigan, the University of Minnesota, and the University of North Dakota, and is focused on developing collaborations in the 12-state Midwest region. Learn more about the national NSF Big Data Hubs community.