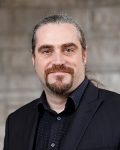 The Midwest Big Data Innovation Hub team is saddened to announce the passing of our longtime colleague Valentin (Val) Pentchev on December 31, 2021.
Val was most recently the PI on the MBDH partner award to Indiana University, which leads the Smart & Resilient Communities priority area. Val had a long, valued history with the MBDH, beginning in the first phase of the project when NSF initially funded the national network of four Regional Big Data Innovation Hubs.
After participating in the community in the early days of the Hub, Val was elected to the MBDH Steering Committee for the 2018–2020 term.
"Val was especially generous with his time, and was committed to the success of the Hub. In addition to regular participation at Steering Committee meetings, he was always willing to join new activities to help the MBDH to grow and mature. We partnered to develop a session at Indy Big Data that was aimed across Industry, Government, and Academia. Val's leadership and engagement with the organizers got us into the program where we delivered a comprehensive and well-received presentation. His kindness and collaboration will be greatly missed." —Melissa Cragin, MBDH Executive Director in phase 1 of the Hub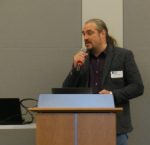 A regular presence at the annual MBDH All-Hands Meetings, Val often served as a reviewer of student research poster submissions.
At our 2019 All-Hands Meeting in Chicago, the last in-person event sponsored by the Hub prior to the pandemic, Val co-organized and moderated one of the spotlight panels, "The 'Smart' Challenge: Delivering on Data-Enabled Decision-Making for Governments and Communities," with panelists Amy Glasscock, Meera Raja, Ruby Mendenhall, and Charlie Catlett. At that meeting, Val also led a related breakout discussion with other interested participants.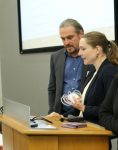 "Val was always an energetic and friendly presence at our MBDH meetings, and just simply a wonderful person to be around. He was faithfully involved with the Hub since the very beginning and contributed to this community in countless precious ways over the years. His loss is not only an absolute tragedy for all the many important projects he worked on, but also for all the people who worked beside him and loved him." —Alice Delage, Program Manager and Community Liaison for the MBDH in phase 1
In 2019, NSF awarded the BD Hubs an additional four years of support to continue regional and national data science community development. During this second phase, the MBDH continued to grow its work on the Smart & Resilient Communities theme. Val became a co-PI on the Indiana University team, and later became PI in 2021.
Val served on the Hub-wide leadership team throughout 2021, and contributed to our discussions about strategy, partnerships, and long-term sustainability.
"I worked with Val from 2015 to 2021. Val was a wonderful human being. A positive coworker with contagious enthusiasm and energy that directly influenced me and others at the time at Indiana University. I have fond memories of Val and I will take the time to remember what Val has taught me over the years, primarily: passion for work and new projects and compassion for coworkers and human beings." —Franco Pestilli, past PI of the Indiana University MBDH award
At Indiana, Val also led the Collaborative Archive & Data Research Environment (CADRE) project, of which the MBDH is a partner, and helped bring members of the academic library and research data management communities to the Hub.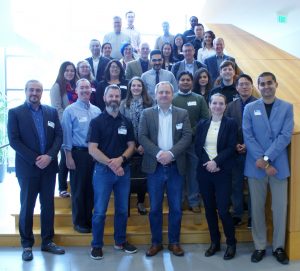 "Val was a tremendous colleague. His positive attitude, passion, and commitment to his work made him stand out. He had a way of seeing the big picture and his enthusiasm was contagious. He was a remarkable human being and it was a privilege to know him." —Lourdes Gonzalez, MBDH Site Coordinator at Indiana University

Val represented the Hub at the Midwest AI Day in-person cross-sector conference in Indiana in August 2021, bringing the MBDH story to attendees from industry, government, and academia.
In October 2021, Val co-organized and participated on a panel discussion at the online MBDH Regional Community Meeting, with a focus on community building across the Smart & Resilient Communities and Data Science for Social Good spaces, with panelists Kimberly Zarecor (Iowa State), Tayo Fabusui (University of Michigan), and moderator Anita Say Chan (UIUC). In 2022, we had planned to continue this work with Val co-leading and helping to establish new partnerships in the region.
"The MBDH will continue to build on the legacy of work that Val helped create," said John MacMullen, MBDH Executive Director. "His goal with the Hub was to broaden the impact of data science in addressing societal challenges. Due to his dedicated engagement, we are ready to accelerate our data needs assessment and community development efforts in the Data Science for Social Good and Smart & Resilient Communities spaces across the region in 2022."